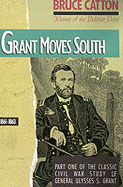 Ulysses S. Grant is one of my historical "heroes." Bruce Catton is the reason for that. Nine years ago I read his
Grant Takes Command
, which narrates Grant's brilliant career during the latter half of the Civil War. He was the general Lincoln was looking for from the beginning but didn't find until he had gone through the likes of McDowell, McClellan, Pope, Burnside, and Hooker.
Some time later I discovered
Grant Takes Command
was the back end of a 2-volume bio. So for the last several months I have been reading in bits the front end,
Grant Moves South
. In this book Catton details Grant's rise in both military prowess and esteem during the first years of the Civil War, 1861 to July of 1863, when Vicksburg fell to him.
Catton paints Grant as a general unconcerned with personal reputation and glory who focused all his efforts on achieving his military goals with whatever resources available. This might strike us as "duh!", but in the Civil War, it was far from typical. Many generals were concerned about personal glory, and many moved against the enemy slowly (or not all) until all the pieces they felt they needed were in place. (McClellan was notorious for extraordinary delays due to fears of enemy strength that was monstrously over-estimated.)
As an example, Grant had moved faster on
Ft.
Henry
and
Ft.
Donelson
than the commanding triumvirate—Gen. Halleck, Grant's immediate superior, Gen. McClellan, and Gen. Buell—expected.
"The Generals had been upset; they were above all other things deliberate, and although universal opinion in the Old Army held each of the three to be brilliant, it appeared that brilliance needed plenty of time—time to consult and confer, time to perfect the largest and the smallest details of supply, transportation and coordination, time as well to jockey and maneuver for personal advantage"
(p. 186).
The charge of alcoholism has been levelled at Grant even to the present day; it was a charge that was levied against him during the Civil War. Catton painstakingly lays out evidence to the contrary (both in this book and
Grant Takes Command
).
The things I like about Grant are his work ethic, his clear-headed thinking, his ability to solve problems that seemed unsolvable, his principled approach to the war as well as to his particular command, his humility, his love for his family and his men (well, most of them), and his integrity.
I am well aware that biographies tend toward hagiography, and Bruce Catton may be guilty of this in his volumes on Grant, but even allowing for some weaknesses and faults in Grant that Catton has failed to record, I still find him to be a great man.
Ironically, as I was reading
Grant Moves South
, I learned that this volume is not technically "vol. 1," for Catton was continuing a multi-volume bio of Grant begun by Lloyd Lewis. Lewis wrote vol. 1,
Captain Sam Grant,
before death intervened. So at some point I may pick up Lewis's volume, thus completing my backwards journey through the military career of Gen. Grant. However, I am more interested in a bio of Grant's presidency. Ranked as one of the worst, the more I read history the more I realize that contemporary notions of presidencies are often incorrect, and I wonder if such is the case with Grant. However, I know of no significant book on Grant's presidency.
First line:
The governor of Illinois remembered that 'he was plain, very plain,' and men said that he usually went about camp in a short blue coat and an old slouch hat, wearing nothing that indicated his rank, nothing indeed that even proved he was in the Army.
Last line:
Sherman had said it: Sling the knapsack for new fields.
My rating (out of 5): 3 1/2
Note: If you only read one of the Catton books, read the second,
Grant Takes Command
.